The how-to guide to your reusable menstrual cup & disc
Yes, the first time you see our reusable menstrual cups you could be forgiven for thinking "yikes, that looks big, how on earth do I get that up my vjayjay?"  Once you've got it in correctly, you won't feel it at all.
Hello Cups and Hello Discs are inserted and worn differently. Please take a good read of our guide below based on the product you have.
USING YOUR HELLO DISC™
Your Hello Disc™ is designed to be worn four ways.
In all cases, fold your Hello Disc™ longways. The tab end should be the last part of the disc to enter your body. Once you feel you can insert the disc no further, use your finger to push the rim up to tuck the disc behind the pubic bone. Don't be afraid to push up higher, this is what positions the disc correctly and holds it in place.
Hello Disc™ features four unique ways to wear our double loop tab - you get to decide what fits and feels best for you.
Check out our Hello Disc™ insertion video to find out more.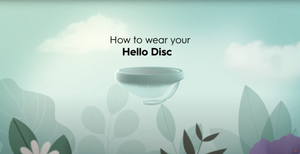 Using your Hello Cup™
We recommend a shallow punchdown fold for Hello Cups.
We say 'shallow' because the key is to make sure the punch doesn't go below the letters on the side of the cup. Once you've nailed the fold, insert your Hello Cup. Once it pops open, give it a gentle tug to help it form a seal and you're good to go.  If it's in correctly and is the right size, you shouldn't get any leakage. Like most things in life, you might need to practice a bit until you've got the hang of it.
To remove your Hello Cup, feel for the base of the cup. Give it a gentle squeeze – this helps to break the seal – and pull down slowly. Once it's out, simply tip the contents down the loo, rinse (or wipe if there's no tap handy) and reinsert. Easy!