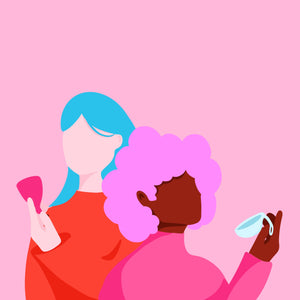 Hello Undies™ FAQs
Unlike most brands of period underwear, Hello Undies can safely be tumble dried on a low heat, which allows for quick turnaround between wear. They are reusable absorbent and leakproof and perfect for people wanting a convenient, reliable and environmentally friendly way of managing their periods, light bladder leakage or even for postpartum care. Depending on your level of flow, they can be worn alone or as backup to your Hello Cup or Disc.  Hello  Undies can be dried in the drier - super convenient! Also, unlike many other brands, we don't use polyurethane plastic so there will be no 'crackly' sound when you move around!
 To ensure our products meet our expectations, our undies will not be the cheapest on the market but we believe cheaper alternatives often come with hidden costs in terms of quality, humanity and sustainability. We want your Hello Undies to last and to make your periods easier to manage so it's vital they are made well. The factory we work with is independently audited each year. To protect against child labour, no employees are aged under 18.  Our manufacturer manages the factory and production themselves to ensure quality and transparency, instead of outsourcing components of the manufacturing process.. The annual audit process ensures they meet international Business Social Compliance Initiative best practice across areas including ethical behaviour, waste minimisation, workplace health and safety, decent working hours and fair remuneration.
Our undies are able to absorb up to 5 regular tampons or 25 ml.  They are thirsty!  And more than suitable for light or heavy flows. Because our undies are super thin and comfortable, Hello Undies are perfect for any day of your cycle - from light days to heavy.
Outer layer - 78% polyamide, 22% elastine
Inner, absorbent layer - 97% polyester, 3% elastic.
The materials used in Hello Undies ensure they will stand the test of time.
Hello Undies are made in an ethically-run factory in China, managed directly by our manufacturer to ensure our ethical and quality standards are met.
To work effectively, it's important that period underwear fits snugly. We recommend measuring yourself before ordering. Our sizing categories are based on international standards and can be used as a general guide, but actual measurements are more likely to result in the perfect fit.  Hello Undies are made from a stretch fabric which gives size flexibility for many.
Measure around the widest part of your hips and buttocks, keeping tape parallel with the floor, then consult our chart.
Six pairs should see you through an average menstrual cycle with one load of washing in the middle. If you have a heavy flow you might need to change them more often, so you'll need more. If you're using them to manage light bladder leakage, we suggest the same amounts as a starting point. 
Yes, our period underwear is an environmentally sustainable solution for menstruation or period management. Because they're reusable and washable, switching to them will prevent plastic-lined single-use pads, tampons and liners from piling up in landfill where they can take up to 500 years to biodegrade. Each pair of Hello Undies will hold the equivalent of five tampons or regular single-use pads. They will also save you a lot of money over time. 
Our leak-proof period underwear stands the test of time! You should get years of amazingness from them - saving you heaps of moolah and giving you some serious kudos with Mother Nature by diverting hundreds of single use period products from the world's landfills with each pair.
No. Our Hello Undies  have Okeo-Tex Standard 100 accreditation and do not contain harmful chemicals. The gusset material has been independently lab tested and found to be free of potentially harmful substances such as PFOS or PFOA, AZO dyes, organic compounds, DMFu and CMR. Our manufacturer has a very strong focus on making their textiles safe for consumers and kind to the environment. With these goals in mind, they have sought to avoid significant chemical processes during manufacturing, which is why they dye their yarns prior to textile knitting, rather than once the textiles have been created. This approach uses less processing, resulting in lower PH levels that ensure consumers are not adversely impacted when wearing the textiles over their sensitive body parts. Hello Undies are made from hypoallergenic materials to ensure they're kind to your skin. 
How to wear your Hello Undies™
Many customers tell us they can comfortably wear the same Hello Undies for 24 hours on lighter days, for reassurance against light bladder leakage or when worn used as backup to a menstrual cup or menstrual disc. On heavier days you may wish to change them twice a day if using them as your main period care product.
Your own comfort is the best guide. While many of our customers can wear their Hello  Undies for a full day without change, if your menstrual flow is heavy or you have moderate bladder leakage, you may want to change more regularly. Each pair of Hello.™ Undies holds the equivalent of five tampons or regular pads. You may initially feel some dampness but as the absorbent material wicks the moisture away this will disappear. If your undies do feel continuously damp or heavy, it may be a sign you need to change them
Yes, they are the equivalent of five regular tampons or regular single-use pads. They're pretty darn thirsty!  If your period is really heavy, you may need to change them during the day. 
We recommend waiting a few days because you will likely have clots and lochia. You want to make sure you've got the green light from your lead maternity carer.
Yes, absolutely. As long as they feel comfortable and fit snugly, our period underwear is a great option for overnight period management. You can use them either alone or as backup to your menstrual cup or your menstrual disc
Yes, the patented absorbent technology we use was originally designed for incontinence which is much more of a technical challenge than period blood because it is less viscous and tends to be released in larger volume. Hello.™ Undies are also great to use during pregnancy and after pregnancy when you might experience leaks when you cough, sneeze, laugh or lift something heavy. They are not designed for full bladder voids or faecal incontinence.
No. The absorbent technology used in Hello Undies has been tested and verified odour-resistant. Noone will be able to smell your menstrual blood or urine while you are wearing them. If you notice a stale smell developing after they have been washed a few times (especially if they've been left in the washing machine too long or not completely dried), we recommend submerging them in a solution of three parts water to one part white vinegar. Soak for about 30 minutes and then wash in the machine or by hand as normal. 
Because it's so effective it doesn't need to! Other brands base their capacity claims on the total area of absorbent material – so if their underwear features an absorbent gusset that reaches from front waistband to back waistband, they measure how much the total area can absorb without leaking, then claim that as the capacity of their product. This can be misleading as nobody actually bleeds or pees right up to the waistband of their underwear. When the absorbency capacity in the centre of the gusset is exceeded, the inevitable result of gravitational flow is that the undies leak from the sides of the gusset. The patented absorbent material used in Hello Undies offer superior absorbency where you need it so we don't need the extra bulk front and back.
We cannot offer returns or exchanges on any Hello Undies which have been opened. This is because we cannot resell products that have been handled by customers in any way.
Please read our size guide carefully and use the measurement chart before purchasing.
If you have bought multiple pairs of Hello Undies and tried one and decided it's not the right size, you can return the unopened boxes for an exchange or refund (excluding shipping). 
If you have any questions or concerns, please reach out to our amazing team at hello@helloperiod.com